ACRONIS CLOUD BACKUP SYSTEM INTEGRATOR Thousands of system integrator — from small to large — succeed by selling an award- winning backup-as-a-service solution that supports more than 20 platforms. Acronis Cloud Backup protects any virtual, physical, and cloud environment, and lets you quickly realise incremental revenues with zero upfront costs and a pay-as-you-go business model.
PROTECT ANY WORKLOAD, BACKUP TO ANY STORAGE
You, as a system integrator, need to support an increasing number of use cases to retain customers and expand your Total Addressable Market (TAM). Acronis Cloud Backup provides you with tools and options to protect any device in any location by backing up to any storage and recovering to any platform.
ACRONIS CLOUD BACKUP SYSTEM INTEGRATOR
EXACT FIT FOR YOUR BUSINESS
Control Your Deployment
• Secure Online Desktop-Hosted (Turnkey solution)
• Hybrid Cloud
Control Your Licensing
• Supports both pay-as-you-go and pre-paid models
• Supports hard and soft quotas
• Offers per-GB or per-seat/per-device licenses
Control Your Packaging
• White label the backup service
• Control the availability of specific features Set quotas for specific accounts and groups
Control Your Technology Model
• Includes a set of pre-built integrations to connect Acronis Backup Cloud to your billing, management, and provisioning solutions
• Furthermore Acronis Cloud Backup offers cloud automation using RESTful management API
KEY FEATURES
Protection for 20+ platforms
• On-Premise, remote, cloud
• Windows®, Linux®, Mac®
• VMware vSphere®, Microsoft
• Hyper-V®, Citrix XenServer®, Linux KVM, Red Hat® Enterprise Virtualization, and Oracle VM Server
• Amazon EC2®, Azure®
• Office 365®
• Exchange, SQL®, SharePoint®
• Active Directory®
• iPhone®, iPad®, Android®
World's Fastest Recovery
• Acronis Universal Restore
• Granular recovery
• Bare-metal recovery
• Acronis Instant RestoreTM
• Virtual host recovery
• Acronis vmFlashbackTM
• Automated recovery
• Any-to-any migration (P2V, V2V, V2P, P2P, P2C, C2C, etc.)
Flexible Storage Options
• Local Disks
• NAS, SAN
• Acronis Cloud Storage
• Off-host operations
• 14+ data centers
• Third-party hosted, including Azure,
• Amazon® S3, IBM Bluemix®
Security Features
• Multi-tenant cloud
• 2048-bit SSL channel encryption
• AES-256 data encryption in transit and at rest
• Tier-IV designed, SSAE-16 certified
• data centers provided by Acronis
• Network based login restrictions
ACRONIS CLOUD BACKUP SYSTEM INTEGRATOR
NEW Acronis Active ProtectionTM
Protects your customers' data and systems from ransomware attacks
by detecting, blocking, and reversing suspicious changes to data, backup files, and the backup agent.
NEW Acronis ASignTM
Eliminates miscommunications with users, suppliers, and customers by supporting the authenticity of your customers' files with signatures enabled by blockchain.
Management and Customization
• Multi-tenant service platform with multiple partner tiers
• Multiple points of custom branding • Ability to enable/disable specific features for customers
• Granular control over quotas for storage and devices
• Automated backup agent updates from the cloud for easy maintenance
Powerful Integrations
• Integrates with Odin®, HostBill, Flexiant®, WHMCS®, ConnectWise®, Autotask®, LabTech®, and Microsoft Azure
• Provides integrations settings configuration and status right in the cloud console
• Simplifies integration efforts with RESTful management APIs
• Integrates with APS Cloud Application Standard v2.0/1.2
Unified Cloud Console
• Easy, centralized administration of all partner and customer accounts
• A single console to manage all services from Acronis
• Intuitive, touch-ready web console • Already in the Acronis Cloud – zero installation required
Dedicated Technical Support
• Pre-sales and post-sales support for system integrator, provided by a designated team of specialists to help you in all stages of the customer lifecycle
• Tier II technical support 24/7/365 free of charge, exclusively for certified Acronis partners Professional Services
• Acronis Professional Services to help ensure the success of your Acronis implementations
• Professional assistance with more complex service deployments, including private-cloud backup and software-defined storage implementations Training and Certifications
• Acronis Training & Certification courses tailored to teach your team how to sell and implement hybrid cloud data protection strategies
• Classroom and online training sessions led by professional instructors who guides you through the exercises, use cases, and online examination
USEFUL LINKS:
Finally see all Cloud Products.
See our presentation video
ACRONIS CLOUD BACKUP SYSTEM INTEGRATOR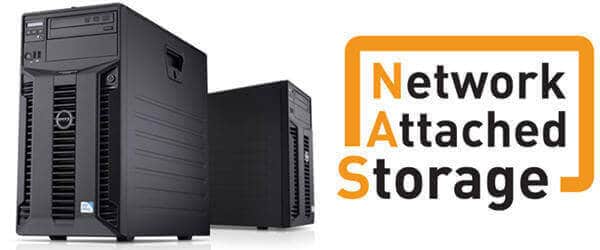 NAS
Network Attached Storage (NAS) is a great low-cost tool for storing your data like backups (single files / folders or entire operating system images). Thanks to its connection (ethernet or wifi) with the local network (LAN) it is possible to easily copy the contents from your PC or server to the NAS using manual and / or automatic systems.
So why is not the NAS the reliable solution for storing my backups?
Although it is cheap and very easy to install, configuring it and using it presents some critical issues that do not make it ideal in professional work environments where data is a critical component and the backup and restore process must be absolutely guaranteed. Let's see some examples together:
DISADVANTAGES OF BACKUP ON NAS
♦ Theft: typically the NAS are physically located inside the company (office, CED, etc.), in the same building where the data are stored that they keep the backup therefore in case a company should suffer the theft of the equipment the latter would lose both the original data present in the computers / servers and their backup contained in the NAS;
♦ Damages: Catastrophic events (earthquakes, tsunamis, tsumamis, floods, fires, etc) could damage the company's computer equipment, destroying both the original data and the backups stored on the NAS;
♦ Ransomware: the latest variants of ransomware are able to encrypt the content of the data stored in the NAS, which makes this tool ineffective because the backup would be in turn compromised and its data not usable.
Do not limit yourself to the NAS to save your data, save them in the Cloud with the BaaS services (Backup as a Service)
What are the countermeasures to protect your data?
ADVANTAGES OF THE BACKUP ON CLOUD
♦ Physical protection: keeping your backups on the Cloud means relying on Cloud Providers who, thanks to their Datacenter, are able to guarantee the physical security of the data, also in compliance with the ISO certifications;
♦ Cloud: The Cloud by its nature allows to segregate data in order to protect the backups from ransomware viruses and all those activities (voluntary or involuntary cancellations) that constitute a threat to the data;
♦ Scalability: the size reserved for backup can easily be increased to adapt to continuous business changes.
Useful links:
New Cloud Server video – Create your Public Cloud
New Acronis Cloud Backup model for end users and new reseller plan
Stay in control of your fast-moving, quick-shifting data
Subscription business model – Basics
A Hybrid Cloud Backup Solution for System Integrator and reseller
BaaS | Cloud Backup | Backup as a Service

BaaS (Backup as a Service) is the service that allows your company to save a copy (off-site copy) of data in Cloud. In this way, you can store your information in a safe place and then restore it at any time in case of disaster.
BaaS is one of the ways to implement backup 3-2-1 rule.
Secure Online Desktop provides its customers with two different ways to implement BaaS to offer a range of different options based on different business needs.
Backup as a Service
The first BaaS (Backup as a Service) solution uses the well-known Veeam technology, widely used by millions of customers around the world, to extend its Veeam local installation to Secure Online Desktop Cloud. The related service is called Veeam Cloud Connect and allows Veeam users to select Secure Online Desktop as a cloud service provider directly from the Veeam console via the "BACKUP INFRASTRUCTURE -> ADD SERVICE PROVIDER" panel or by searching it with the "FIND SERVICE PROVIDER" link.
Pros and cons of the Veeam Cloud Connect solution
Pros:
1) No installation – No additional software or hardware devices are needed in the company;
2) Simplicity – The customer can turn on Cloud Provider functionality from the Veeam Backup & Replication console with a simple click;
3) No new console – You will not need to use a new tool or access additional consoles because all Cloud backups are perfectly visible within the already existing Veeam Backup & Replication console;
4) No VPN – There is no need to establish any additional encrypted channel between the client and the Secure Online Desktop as communications are encrypted through SSL during transit and are encrypted to the source with AES algorithm.
5) WAN Accelerator – With Veeam's WAN accelerator capability, you can optimize backup communications to reduce time and optimize Internet bandwidth usage.
Cons:
1) It is necessary to have the Veeam solution already in the company;
2) Only the devices supported by the Veeam solution can be protected from backup.
The second BaaS solution uses instead of Acronis technology and its Anydata engine. Similarly to the first, this service allows you to have an off-site copy on our Cloud and to perform full recovery (the entire virtual machine in case of virtualized environments) or partial (the single file or folder) of your data with a simple click.
Pros and cons of the Acronis Cloud Backup solution
Pros:
1) No other backup software is required – Within the service, the software agents needed to operate with Cloud Backup System will be provided. This way the service can also be used for local copies;
2) Full Protection – Acronis Cloud Backup covers many types of devices, applications, and operating systems including mobile devices;
3) No limit on systems to be protected – The service is billed only on the basis of the storage size in Cloud without any limit on the number of systems to be covered by backup;
4) Local backups – The software agents provided by the service and its backup policies allow you to keep backup over even on any local storage at your site without any additional cost.
Cons:
1) It is necessary to install or distribute agents on all systems that you want to cover from the service.
Twitter FEED
Recent activity